Sweeping Applications
Elgin equipment utilizes all variations of today's sweeping technology — mechanical, pure vacuum sweepers, regenerative air, alternative fuel, waterless dust control — and now a single-engine technology — to offer customers the sweeper that matches their needs. From general street maintenance to special industrial and airport applications. Elgin puts it's customers in the sweeper that best meets their needs.
Key Features:
Patented Waterless Filtration Technology minimized fugitive dust and allows for sweeping in all weather conditions.

EPA Tier 4 final compliant diesel engine.

PM-10 compliant standard offerings to ensure environmental air quality requirements are met.

Easy to operate, single-switch for sweep and transport modes, will keep operators focused on the task at hand.

The Waterless Pelican is highly maneuverable and can easily traverse factory compounds with 15ft turning radius. The Waterless Eagle is mounted on the shortest commercially available chassis wheelbase for tight turning radius requirements.
Need Help With Sweeping Applications? Ask an Expert!
INDUSTRIAL

sweeping

MUNICIPAL

sweeping

CONSTRUCTION

sweeping

AIRPORT

sweeping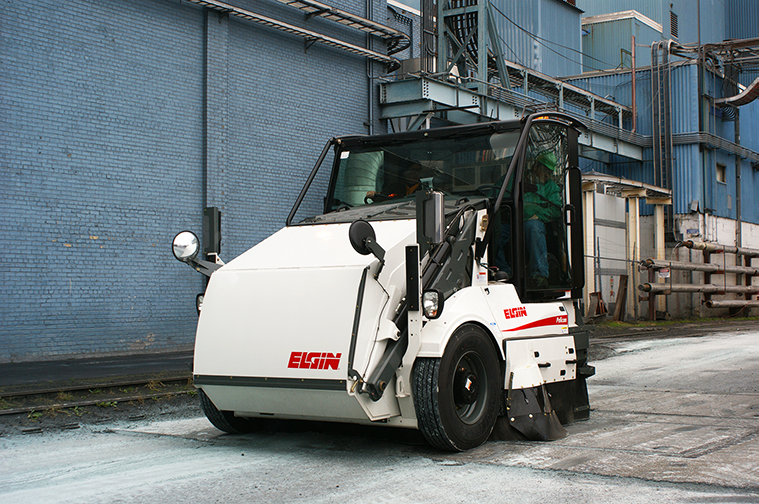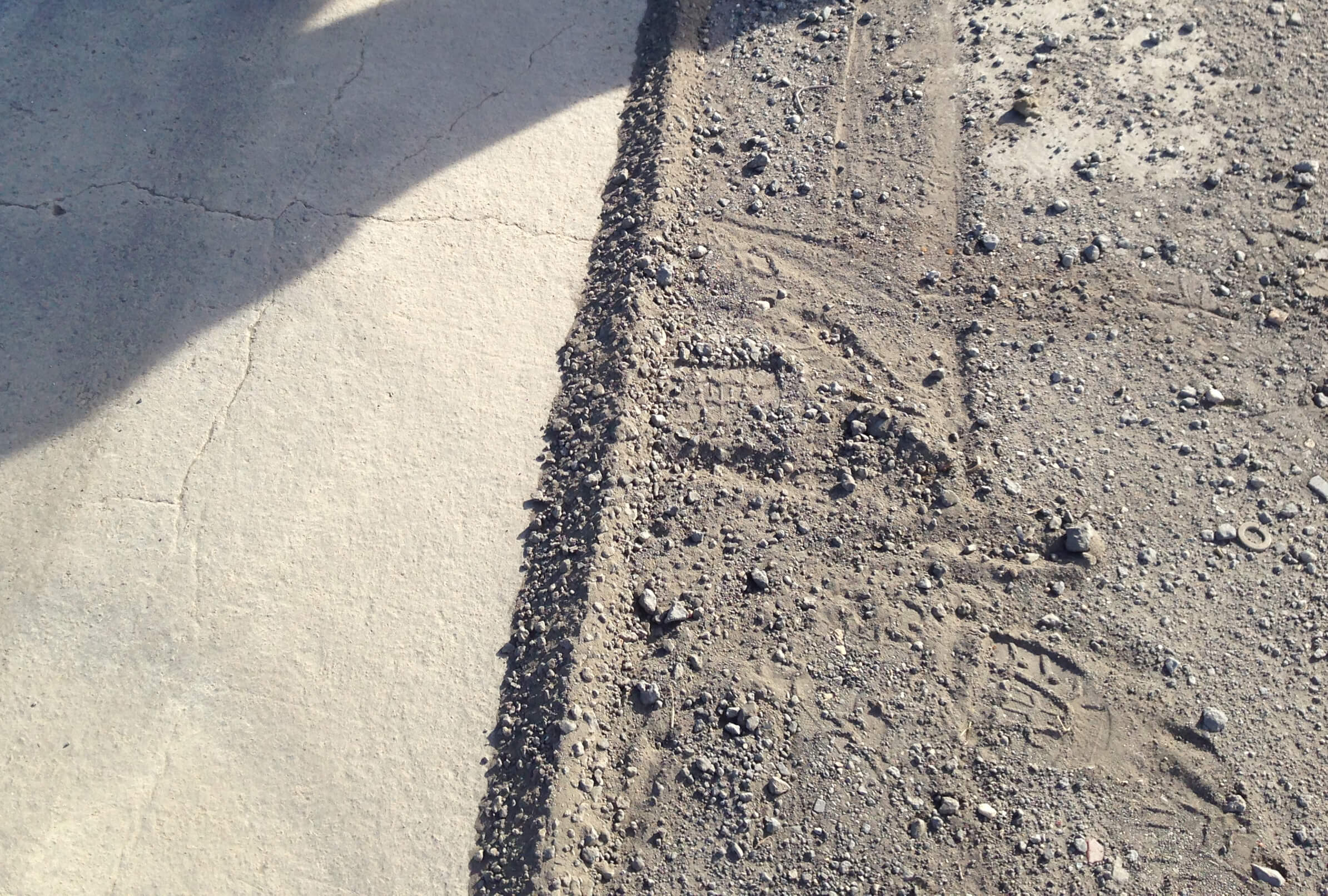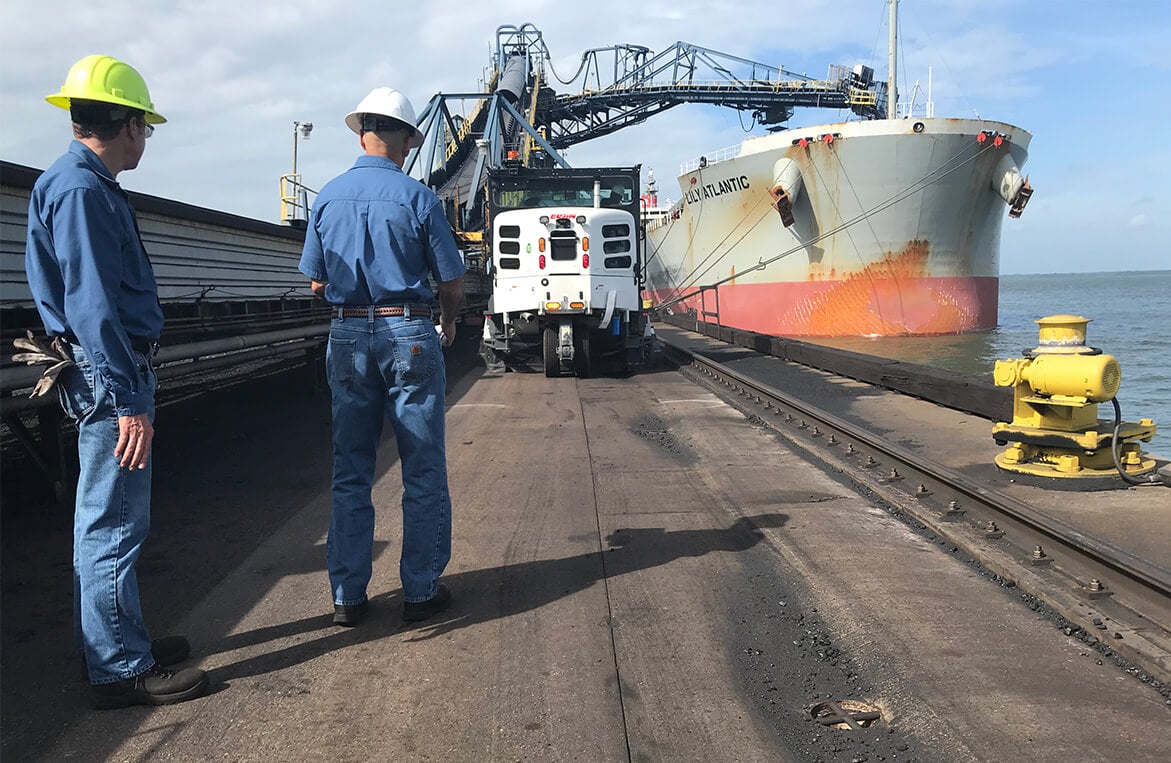 INDUSTRIAL SWEEPING APPLICATIONS
Cement
Cement plants experience spilled material and track out around the facility, requiring durable sweepers. Materials can be a combination of crushed lime, coke and finished cement product. In addition, the cement product is reactive when in contact with water.
Power Plants
Coal, coal dust and fly ash from spillage are the typical contaminants and debris that sweepers must deal with at power plants. These materials are all dry bulk powder and the use of water can reduce pick up efficiency due to creating material that will stick to surfaces.
Grain Processing
Typical sweepers needed in plants where grain is processed into powder for various applications are needed to sweep up ground grain spilled around the processing as well as track out. Sweepers must be able to handle the fine grains, like processed corn or wheat, which are dry bulk powders that react to water, meaning they can begin to ferment and create odor problems. Sweeping should be dry, yet able to handle small particles.
Lime and Quarry Processing
Lime and quarry operations need to move sweepers out on main and ancillary roads where material spillage happens. The typical material to be swept is sand, gravel and lime dust.
Ports
The type of materials that can be found at ports varies widely, ranging from spilled bulk powder to large bulky material such as broken pallet pieces. Ports are congested areas That require sweepers with high maneuverability. Most ports contain a system of railroad tracks as well running from the shipping docks to the outside transportation terminals.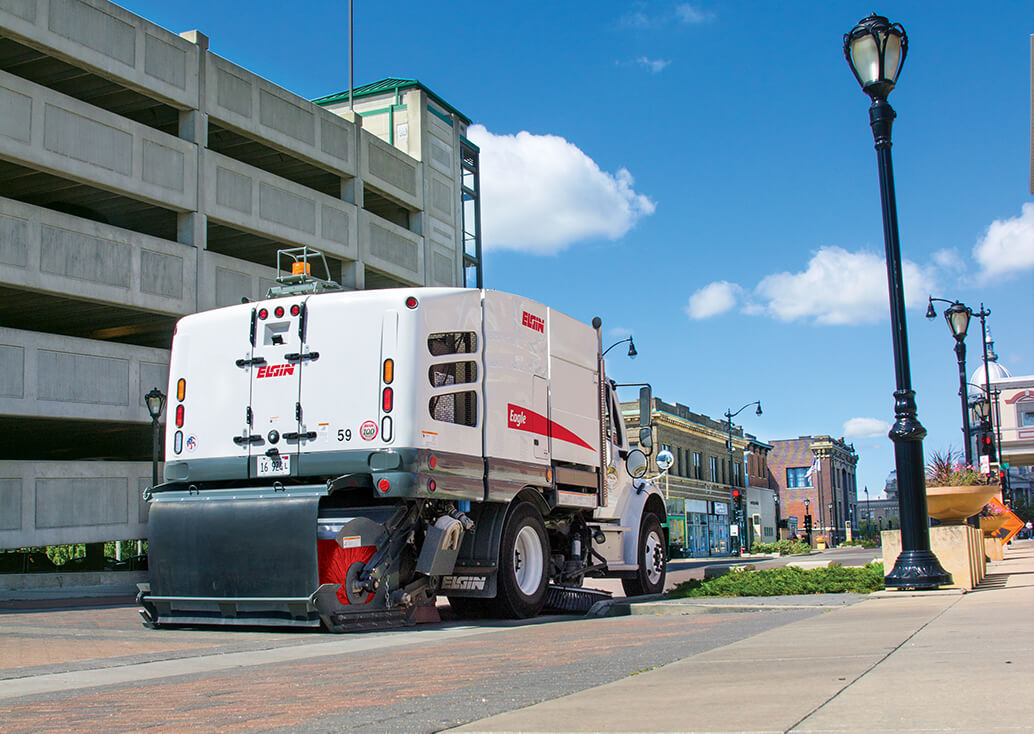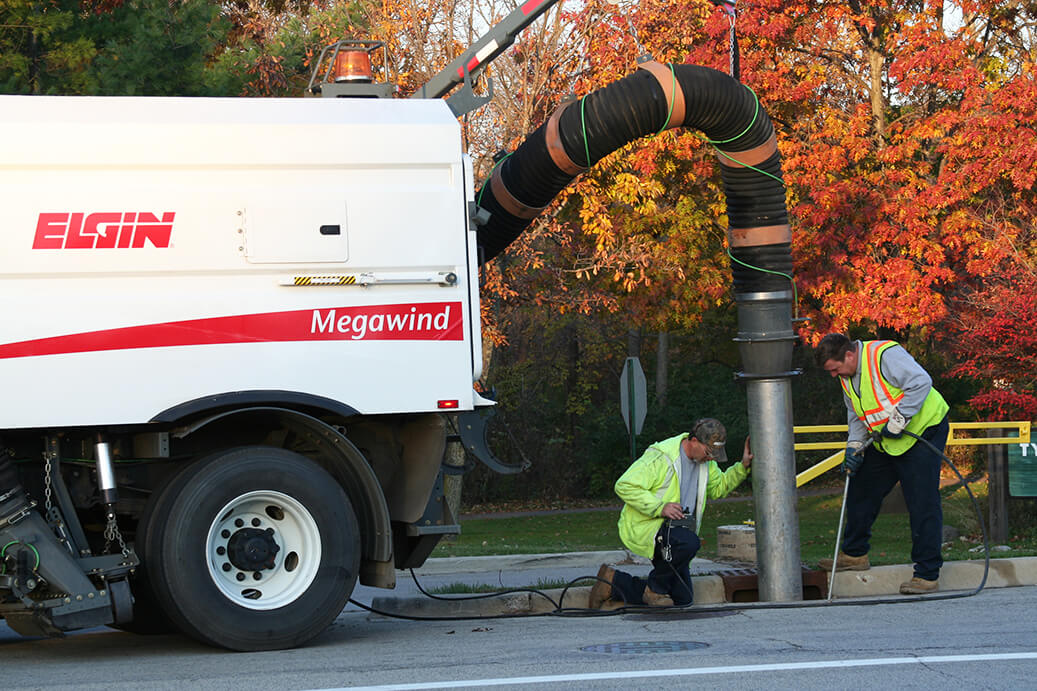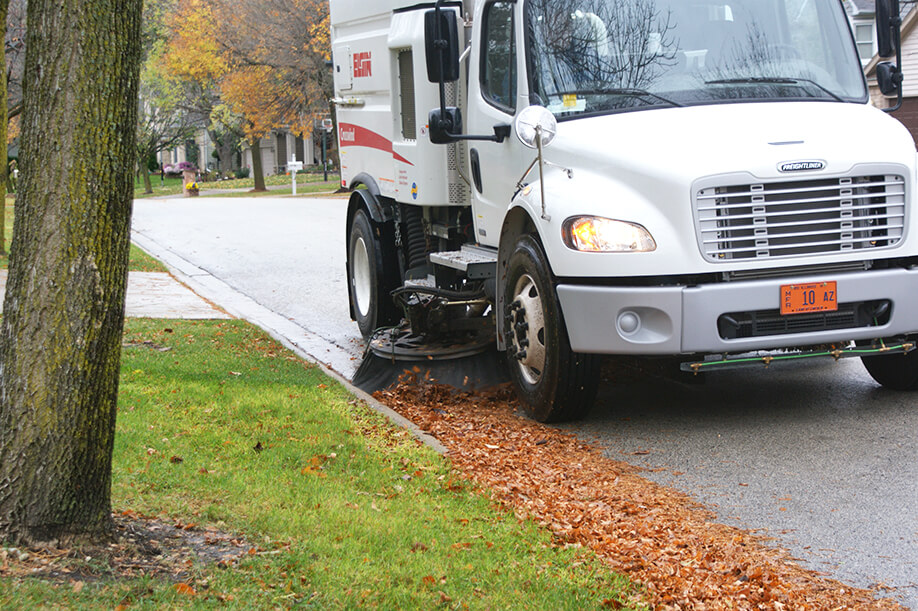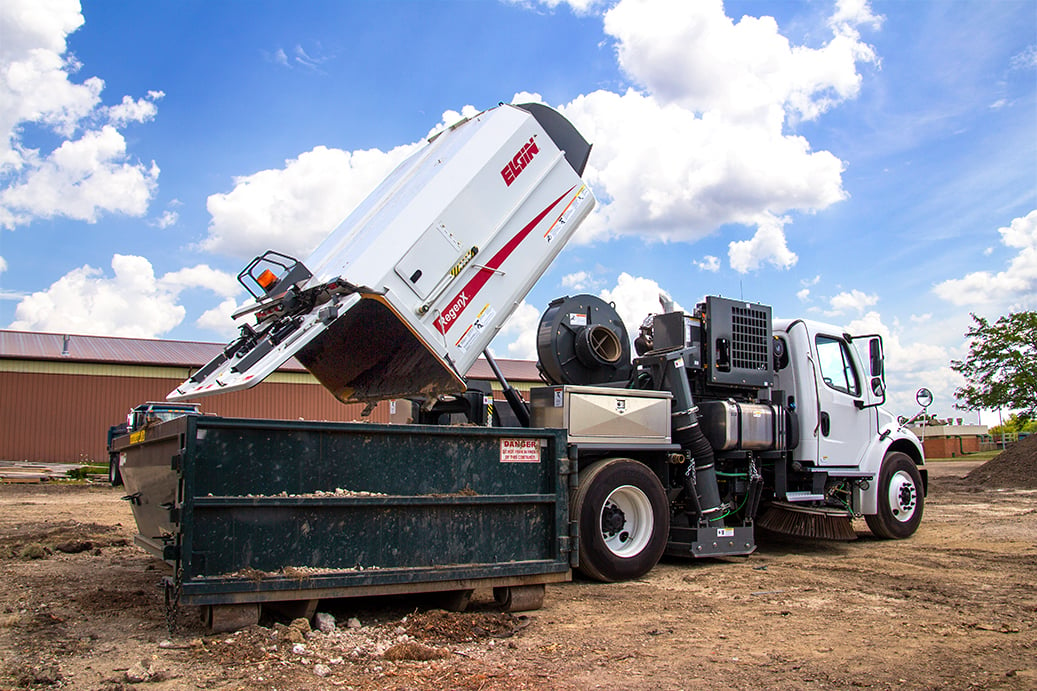 MUNICIPAL SWEEPING APPLICATIONS
Porous Pavement / Cleaning and Restoration
Porous pavement is increasing in popularity throughout North America as a structural BMP for stormwater. There are several types of porous pavement: permeable interlocking concrete pavers, permeable asphalt, and permeable concrete. Each type has the inherent benefit of providing infiltration of stormwater while filtering the sediment that would otherwise go down a structural storm drain.
Street Sweeping / General Maintenance Sweeping
The most common municipal application is general maintenance sweeping, which happens on a regular schedule in most cities. Generally, this means sweepers that can handle picking up common gutter debris, half of which is within about six inches from the gutter into the street. Most material is light, including sand, dirt, sticks, grass and small litter.
Leaf Removal and Pine Cone / Needle Sweeping
In the fall, when gutters tend to fill with leaves rather than dirt. Leaves and pine cones are typically light and bulky, and can be difficult for many sweepers because they climb over brooms when extremely dense. Pine needles often bunch up and can be difficult to load.
Catch Basin Cleaning
Many municipalities combine street sweeping and catch basin cleaning, which means they need the ability to lift leaves, silt, sand, gravel and litter out of catch basins. Cleaning catch basins regularly prevents streets from flooding and keeps rain run-off flowing as desired.
Year Round Street Sweeping
Northern or cold climate municipalities may need to sweep material year round, even through freezing temperatures. Sand, gravel, silt, traction sand, salt residue and cinder cannot be done with water for dust suppression, given the possibility of freezing both to the street and the sweeper components. Our sweepers with waterless dust control would be suitable choices for these applications.
Spring Clean Up and Heavy Duty Sweeping
Sand, gravel, silt, salt and traction sand often accumulate in northern climates after a winter of reduced sweeping. This material is often very heavy and compacted requiring a powerful broom and conveyance action to dig the material out removing it from the surface.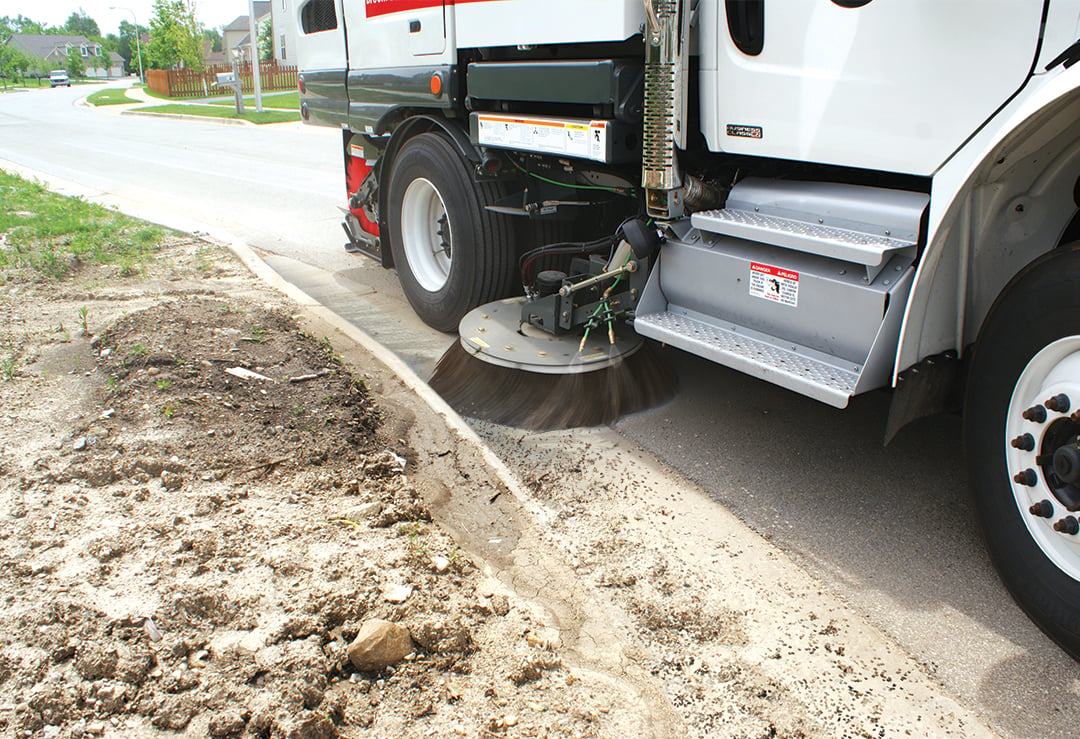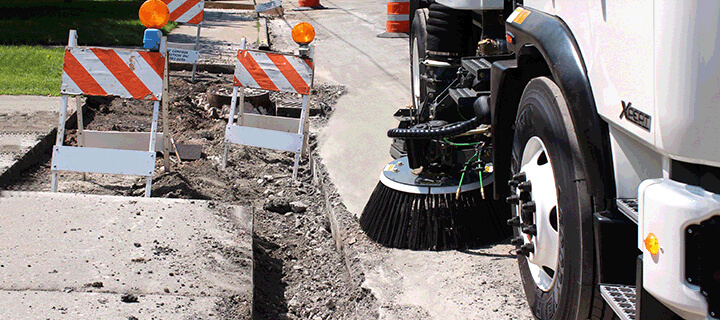 CONSTRUCTION SWEEPING APPLICATIONS
Municipal Sweeping
Many public works departments hire sweeping contractors to perform basic street maintenance sweeper duties.
Road Construction
Road construction contractors need sweepers that can handle all manner of heavy material including broken pavement, asphalt and concrete millings, mud and construction debris. These sweepers must have the ability to dump into staged dump trucks so as not to have to leave the road construction site to unload.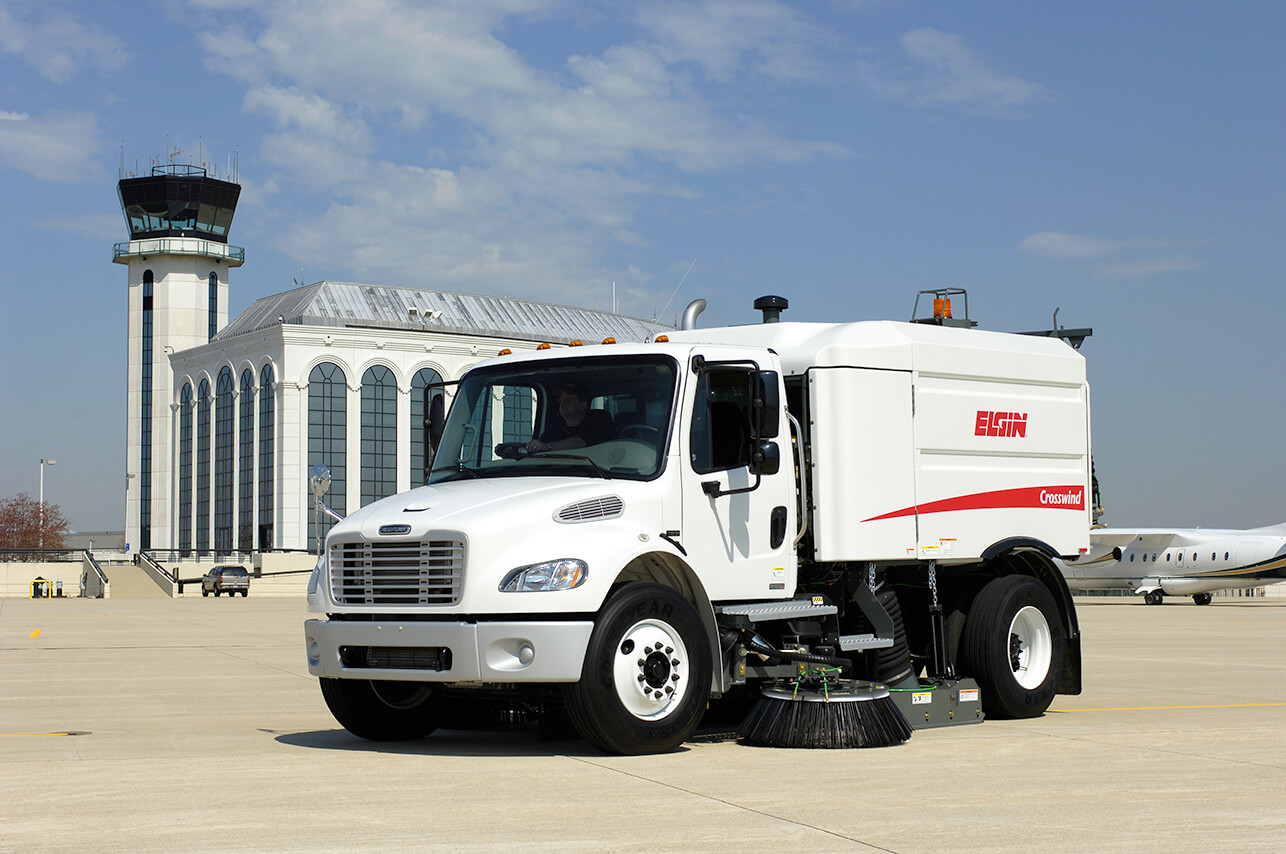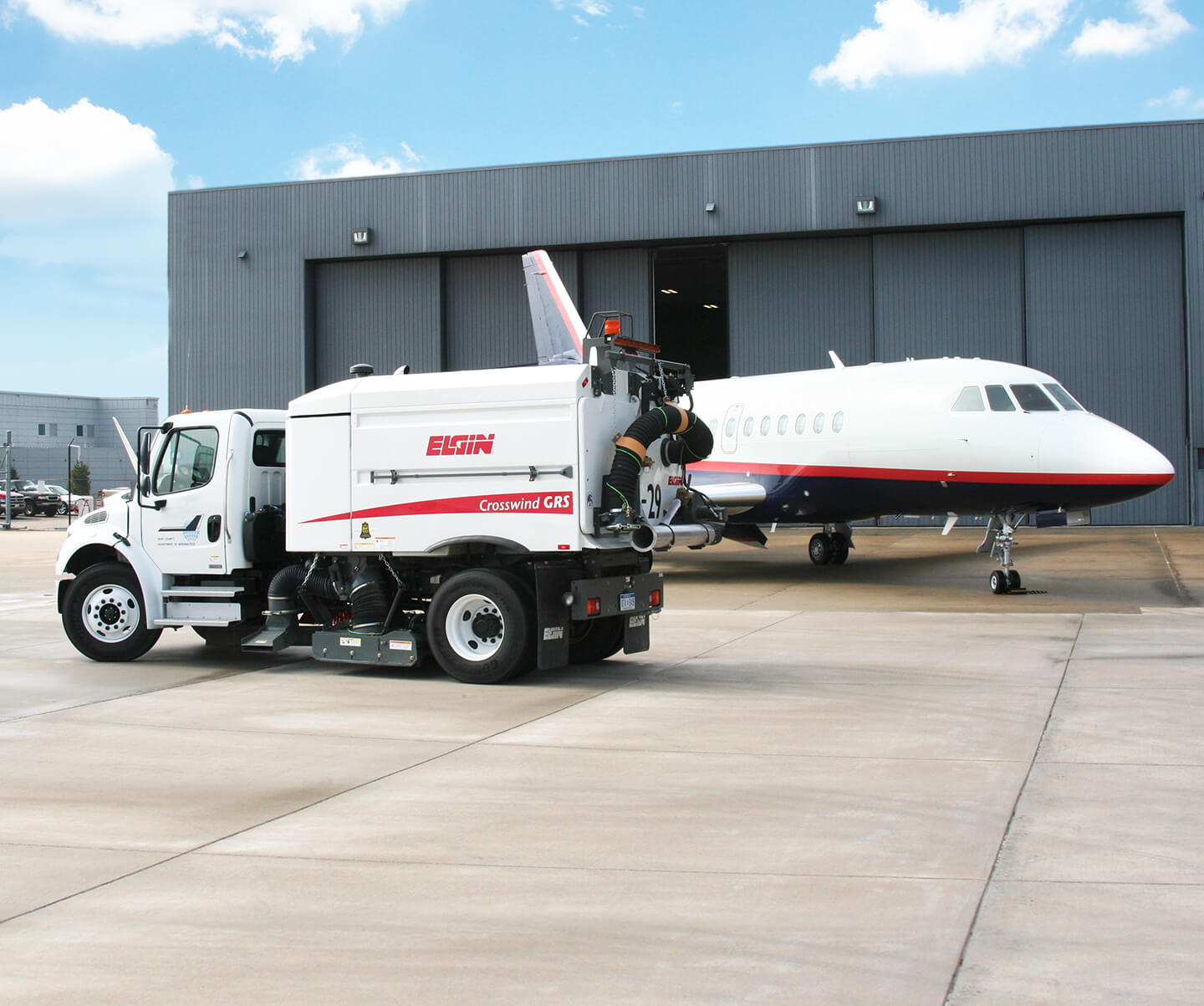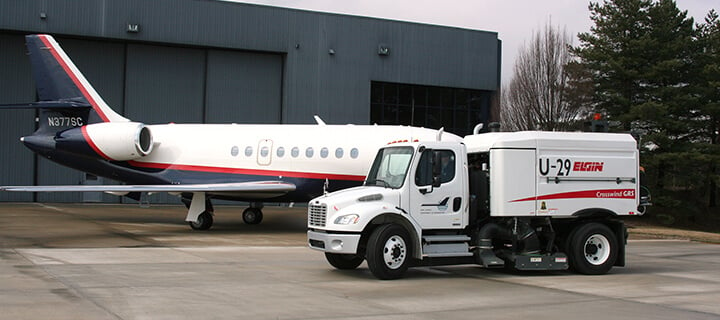 AIRPORT SWEEPING APPLICATIONS
General Tarmac, Grounds Maintenance
Typical airport sweepers would need to handle general maintenance sweeping of roads, gate areas, and the tarmac. Material found at airports is usually gravel, sand, small debris or litter.
Airport Runway
Many airports maintain sweepers for their high-speed runway sweeping and other airport sweeping to keep runways free of foreign object debris. The most important features of these sweepers are the ability to sweep large, flat surfaces at high speed and be capable of picking up the typical material found on runways, like pea gravel, sand, small metal objects, such as nuts and bolts, and pieces of vegetation.
Glycol Recovery
Many airports have requirements for picking up de-icing fluid (glycol) used to de-ice planes. This fluid may run off onto the gate area surface or runway waiting, requiring special airport sweepers to clean up. Environmental regulations generally require this to be cleaned up before the material can flow into the storm drain system and mix with storm water runoff.